Founded in 2015 Manhattan Rhythmics is a prestigious Rhythmic Gymnastics (R.G.) school found in the heart of Manhattan. Our Philosophy is to provide an inclusive environment to develop gymnast with the care and in depth personalized training approach to create confident, intelligent, poised, and critical thinking young ladies. Our approach of training combines the worlds best techniques, combining under one roof the Russian and Bulgarian training methods in body skills and apparatus work, with the inclusion of a deep foundation of ballet.
In a short 5 years, co-owners and head coaches Esma Serdjinti and Silviya Taseva have led MR to be among the top teams in the country becoming home to champions winning the titles of State, Regional, & National champions with unique choreography, and attention to detail. 
MR has received and trained international gymnasts from Singapore, Colombia, China, Israel, Puerto Rico and France. Known for their attention to detail & unique choreography styles, Manhattan Rhythmics is the place you can become the best you, because "Perfection is what we do" 
Esma Serdjinti (Team Coach & Co-Owner)
Esma trained in the sport of Rhythmic Gymnastics in the U.S.
In her career as a gymnast, Esma trained with legendary American and Russian coaches such as Wendy Hilliard & Natasha Kirienko.
Esma-May won medals and titles through out the tri-state area, including N.Y. State Champion in 1994, 1995 & the 1996 M.I.P (Most Improved Player) Award from U.N.I.S.
At 14, Esma became Algeria's 1st Rhythmic Gymnastics National Team member, while training in the U.S. with Isadora Rhythmics. Esma went on to win a Bronze medal in the 1998 All African Games in Namibia. Once her training concluded, Esma continued to coach and choreograph for NYC based organizations such as the Wendy Hilliard Foundation, Big Apple Rhythmics, & Isadora Rhythmics.
Her career as a recreational coach include 92Y, Sokol N.Y (UES), NYC Elite (SOHO) & Jodi's Gym. Her passion & love for the sport led Esma to create Manhattan Rhythmics & offer the generations to come the exposure and opportunity to take part in the sport of Rhythmic Gymnastics.
Esma is a certified USAG Level 3-8 judge and professional member and CPR certified.
Silviya Taseva (Team Coach & Co-Owner)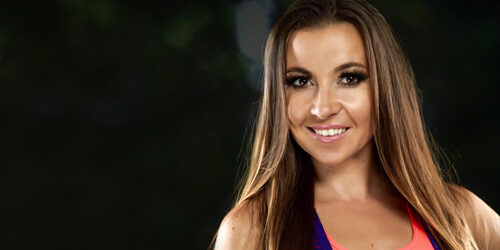 A native from Bulgaria, Silviya began her Rhythmic Gymnastics training and competitive career at the age of 4 coached by one of the world's most famous rhythmics gymnastics coaches in the field.
Silviya was invited to join the Bulgarian National Gymnastics Team at the age of 12. Her personal achievements include: Bronze Medalist of the European Championship, 5-time Bulgarian National Champion, Gold medalist in numerous International and World Level RG Tournaments.
Silviya is the President of Manhattan Rhythmics gymnastics club in New York City. She has been a coach of multiple NY State, Regional and US National individual rhythmic gymnastics champions, as well as to the 2-time rhythmic gymnastics  Junior Group National Champions of the USA. Silviya is also the head coach and choreographer of the Individual National Junior Team of Puerto Rico. Silviya has participated as PUR team head coach at the 1st RG Junior World Championships. She has also acted as a personal coach for various world famous celebrities as the daughter of the pop icon Madonna, Lourdes Ciccone.
Silviya Taseva is an unique, multi-talented asset to the Entertainment Industry. She continues to lead a fulfilling career as a successful Gymnastics and Dance Choreographer, Performing artist and Model. She has appeared in many commercials, multiple popular television and fashion shows, music videos, beauty contests, and toured with top recording artists
Silviya is a certified USAG professional member and CPR certified.
Anna Aliau Guerra was born and raised in Barcelona, Spain. After a fulfilling career as a Rhythmic gymnast & coach, she started her dance career.
Anna graduated at Coco Comin in Barcelona, Spain after 3 years of intense training for professional dancers. Additionally, she completed the summer professional intensive at the Royal Academy of Dance in London in 2014. Anna was in several musical theater productions and she choreographed and performed for a prestigious artist in Spain.
As a dancer, Anna has performed in Carnival Choreographer's Ball in L.A, under Ashle Dawson, The Broadway Underground Remix at B.B.Kings  NYC, Miss Universo Latina USA in D.C, Pride Las Vegas 2019, and a list of famed artists such as Bryant Myers, Farina, the duo Alexis Y Fido & many more.
MR is blessed to have a well rounded coach who trains gymnast with the precision of proper technique and fluidity to musicality to create great gymnasts.
Anita Minossyan was born and raised in Kazakhstan. Beginning her training at the age of 5, Anita's career as a Rhythmic Gymnast spanned 13 years.
She has competed in various competitions in Kazakhstan and many European countries, including the Eurasian Games winning a bronze medal. Her success landed her a placement in the group National team for the Republic of Kazakhstan in group competitions.
Concluding her career on the national team, Anita achieved a degree as a Master of Sports in Rhythmic Gymnastics, as well as attaining a bachelors degree in athletic training.
As a coach, Anita has worked with a multitude of level of children, from recreational levels and schools, to the Olympic reserve school in Almaty. Also serving as a secretary in the offices of the Kazakhstan Gymnastics Federation, Anita is versatile Rhythmic Gymnastics professional, a USAG member, and the newest addition to the MR family.
Florine was born and raised in NYC and began rhythmic gymnastics at the age of 4. Throughout the years she has won the titles such as New York State Champion and New Jersey State Champion for her respective level.
She also has an extensive experience in classical ballet and modern dance by being part of several selective programs and dance companies across NYC.
Florine has been a MR member since 2021, and we are beyond happy to have such a young, talented and dedicated coach at our MR Family.
Follow us on social media:
165 West 86th street (TOP FLOOR)
New York, NY 10024
(917) 246-4876
521 Main Street
New York, NY 10044
(917) 246-4876